Everything we know so far about the new 'Terminator' trilogy
Updated: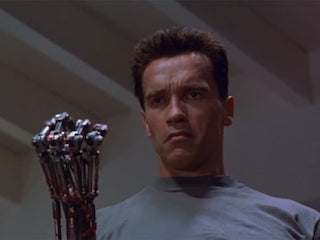 © Digital Trends
First announced in January, the Terminator franchise is returning to the screen with original director James Cameron in a producer role. The latest update on the project suggests a potential start of production in 2018.
Despite the potential for a serious case of reboot fatigue, it's difficult not to be excited about the prospects of a new Terminator trilogy — especially considering Cameron (who dropped directorial duties after Terminator 2: Judgment Day) is back, albeit as an executive producer. Deadpool director Tim Miller will helm the first film in the new trilogy, and Arnold Schwarzenegger, the Terminator himself, will return along with original franchise star Linda Hamilton.
With the still-untitled Terminator sequel scheduled to hit theaters July 26, 2019, here is everything we know about the movie so far.
Roll cameras
We're not sure when Skynet will go active, but we do have an idea when cameras will begin rolling on the Terminator sequel.
Speaking to fansite TheArnoldFans, Schwarzenegger said he expects shooting to begin in summer 2018 and continue on through the fall.
"We are starting to shoot Terminator 6 in June to the middle of October, so I am in that," the actor told the site. "I am looking forward to coming back as the T-800 model. It's going to be great with Tim Miller as the director and Jim Cameron is kind of supervising the whole thing."
A REVEALING INTERVIEW
On September 27, 2017, as part of its cover story (below), The Hollywood Reporter published an extensive interview with Cameron and Miller, in which the two divulged several juicy nuggets of info regarding the upcoming films.
'A BAD DREAM'
When we found out about the reboot, we naturally wondered how it would fit into the existing narrative. After all, a true sequel would have to consider four films' worth of backstory — Genisys acted as a hard reboot of the series — right? Well, it turns out the trilogy will follow Terminator 2 sequentially, as Cameron is more than happy to "pretend [the three most recent films] were a bad dream … or an alternate timeline, which is permissible in our multiverse."
The duo (along with Ellison and a team of writers including David Goyer, Charles Eglee, Josh Friedman, and Justin Rhodes) believe that the basic concept for the first two films — artificial intelligence becoming self-aware and then murderous — is extremely relevant today, given recent advancements in technology.
A NEW GENERATION OF TERMINATORS?
When asked about his plans for future casting — Schwarzenegger is 70, while Linda Hamilton (Sarah Connor) is 61 — Cameron admitted that he'll be following the Star Wars template and seeking out fresh faces.
"A lot of this is handing off the baton to a new generation of characters," he explained. "We're starting a search for an 18-something young woman to essentially be the new centerpiece of these stories."
AN AGING T-800
According to Cameron and Miller, Schwarzenegger's Terminator character will show signs of age in the new trilogy: "You don't have to get around [Arnold's age]. The beauty of it is: He's a cyborg. And so, the org part is on the outside, meaning organism … there's this idea that flesh sort of sheaths over a metal endoskeleton. So that would age normally. So, obviously he's one that's been in action and operation for a long time. And that's all I want to say about the actual story part of it."
Miller teased that the T-800 character will have grown and evolved under the hood as well, saying "… they're learning machines.
A STAR RETURNS
The Terminator franchise is going back to its roots. Linda Hamilton, who played Connor in the first two films, signed on for the latest film in the series in September 2017, according to Variety.
Plot details for the upcoming Terminator flick haven't been revealed yet, but whatever the story is, it must be something special if it lured Hamilton back. After starring in the series' original 1984 film, The Terminator, and its 1991 sequel, Terminator 2: Judgement Day, the actress declined to return to the franchise for the third film. She didn't like the direction it took and felt the story was "complete" with the first two movies. Although she later did agree to do voice work for the fourth film, she wasn't thrilled the franchise was continuing.
"I thought it was perfect with two films," she said at Excel's MCM Expo in 2009, according to the U.K.'s The Wharf. "It was a complete circle, and it was enough in itself. But there will always be those who will try and milk the cow."
A big part of the problem for Hamilton seems to have been the fact that Cameron, whom she was married to from 1997 to 1999, stepped away from the franchise for those films. At the same 2009 expo, she credited him with much of the success of the franchise, saying it was "his vision that really made it soar." Cameron's return may have been what was needed to convince Hamilton to reprise her role.
Hamilton's co-star Schwarzenegger did appear in the franchise's most recent film, 2015's Terminator: Genysis. Emilia Clarke (Game of Thrones) played Sarah Connor, meaning we'll need an explanation for the change back to Hamilton in the sequel. We're not worried, though. Cameron worked on the story with Miller.
The upcoming Terminator film is expected to be the start of a new trilogy, so depending on the fate of Sarah Connor in the upcoming movie, we may or may not be seeing a lot more of her in the coming years.
Updated March 6: Added information about a potential start date for production on the film.
This article was originally posted on Digital Trends
Content provided by


INFORMATIONAL DISCLAIMER The information contained on or provided through this site is intended for general consumer understanding and education only and is not intended to be and is not a substitute for professional financial or accounting advice. Always seek the advice of your accountant or other qualified personal finance advisor for answers to any related questions you may have. Use of this site and any information contained on or provided through this site is at your own risk and any information contained on or provided through this site is provided on an "as is" basis without any representations or warranties.